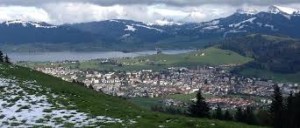 Like almost every year, there was snow in October. But this year the snow was not only in the mountains but going down to Einsiedeln. It was on 10th of October and Einsiedeln was covered with a white layer of snow. Just for half a day or so, but it was white.
I did almost 500 km on my MTB, so time to make the last ride on it and finish the season for this year. I had a lot of fun on my new MTB and did one last time a route on the hill on the west side of the village. On top there were still the last remainings of the snow from a couple of days ago.
Its a great view from over there where you can see the whole village and the lake and the mountains in the back.