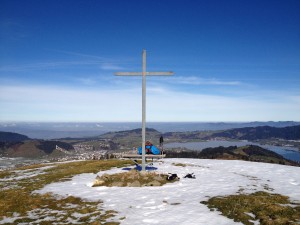 This year winter started perfectly. There was already enough snow beginning of December so that it was possible to do cross country skating in Einsiedeln.
But after Christmas the weather suddenly became so warm that most of the snow was gone within a couple of days: no skiing anymore.
I took the opportunity and used my snow shoes I had bought a couple of years ago and rarely used to walk onto this hill called Spital in the back of Einsiedeln.
The hill or mountain is not hight, barely above timberline and you can start walking in the village. I took a photo from top of the hill. In the background there is lake Sihlsee.
The name of the hill is funny because Spital means in German hospital and you can see the hospital of Einsiedeln from over there.