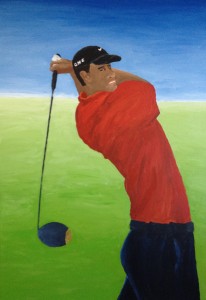 As I had an injury beginning of this year, I was not able to do as much sport as in the last couple of years. In fact, I was not allowed to do running and also did less on my bike and participated no races this year.
Instead I made some lessons in golf in June and went almost every weekend to the near golf court in Studen, just 15 minutes by car.
Golf is really a sport for everybody, you will not start sweating. But this is also a benefit because you can go to the green even after you already spent several hours on the bike or somewhere   else because golf is more relaxing than exhausting.
I had about 6 lessons together with 5 other guys and had much fun with the trainer and the colleagues. I got lent a good golf bag from my neighbour, so the only thing I had to buy for being able to do this new sport was a trousers, because of the dress code on the court.
Seems that I will stick to this new sport though meanwhiles I am back running (not such a lot of kilometres like in the last years) and back on the bike and I also started again doing some fitness in a studio.