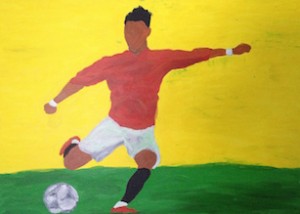 I have a new hobby. In March I had an accident while jogging in the wood and had to go to hospital for a medical treatment. Since then I had to reduce my sportive activities which was not easy a the beginning.
Meanwhiles it is better and I am even happy because I spend more time with my kids again. But I also have a new hobby. Together with a friend we have rented a small room in the next building and do painting there.
This is a funny hobby. I was quite a good painter in school and even won once a school championship. But since then I lever practiced it. But my friend has this hobby since more than ten years, so once a month we meet in our room and drink beer and paint.
This is one of the good paintings I have done so far. Its not easy!