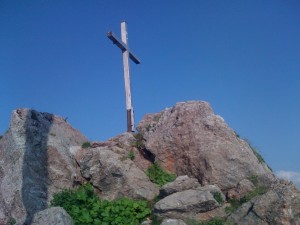 Every year I am on top of Mythen, at least once. Normally I do it as fast as possible without having anything to eat with me, only a bottle of water. I can go up from bottom, parking place to top in less than an hour.
My personal record is 55 minutes. And I am becoming faster year by year. My record was this 55 minutes up and 25 minutes down. But down is little bit dangerous. You can hurt yourselfes very ugly on the feet. Better being careful.
The fascinating on this mountain is that I am there with car in 15 minutes, so in less than 3 hours I can start at home, climb it and be back home. I really do it most the time after coming home from office. In summer, when it gets dark not before 10 pm, it is easily doable and not so hot any more.