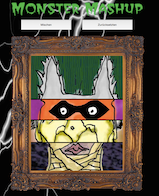 From time to time you have to learn something new. If you go to bed and think about what you have learned today and there comes nothing into your mind. Stand up and read something in a lexicon just to be able to say that you have learned something that day.
Currently I am back on learning something for my job. jQuery is a development language for internet development, a library which makes it easy to develop web pages able to be running in different browsers.
I bought a book and started reading chapter after chapter until I came to this nice chapter about programming a monster page where you can swap images to define the face of numerous different monsters. Click here to see the page I have developed with help of that book. Many thanks to the writers of the book for the images and the idea!