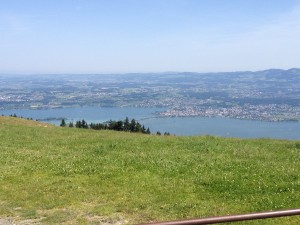 Starting from Einsiedeln there are a lot of mountain bike tours. You can go into all directions. But one of the most beautiful ones is if you go to the hill which is between Einsiedeln and lake Zürich.
From there you have a extraordinary view over the whole lake, back to Einsiedeln and the mountains and you can even see Zürich itself which is about 30 kilometres away.
Once a year there is a big mountain bike race called "Iron bike" which starts and ends in Einsiedeln. The tour goes up and down over several mountains in total more than 2300 meters of altitude. The first up is this hill with the lake Zürich on your left.
But while participating at the race you barely have the time to enjoy the view, so better to make the tour on a sunny sunday morning.