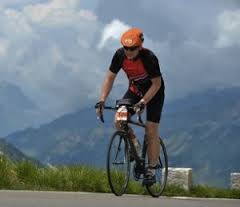 Gigathlon is an invention of Switzerland. This year there was the 10th event and every 5 years it is done a rather big event of 5 or 6 days. Gigathlon means that each day the participant has to execute 5 different types of sport: swimming, running, biking, mountain biking and inline skating. You can contribute as single, as couple or in a team of 5 or even more.
A friend of mine won a ticket for a team of maximal 15 people who had to do the 5 disciplines on all the 6 days. Means 30 disciplines in total spread to this max 15 people. We were 10 people and I was in the lucky position to do 5 disciplines: 3 times on the bike, about 250 kilometers, once running of 24 kilometers and the last day 3 kilometers swimming.
Did not know how easy or difficult it is to participate in a race every day, but some of the people do the 6 days alone, as single or as couple. That sportsmen are really heroes. One discipline per day is nothing.