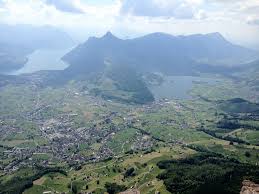 This year I was already on top of Mythen for the first time. I did the walk with my new sticks. The last time I have used sticks is years ago. Must have been in Austria, when I was young. I bought them for walking with my new snow shoes and can use them also in summer.
There were already a lot of people on top of Mythen, as always on Sundays. I walked with my sticks and arrived on top after 59 minutes. Thats good for the first time in the year.
Down I needed about 40 minutes but was much to fast. I should not walk so fast on this mountain. It is too dangerous for running. And every year 1 or 2 people have an accident and die on this mountain. Unbelievable but some of the people try to climb the mountain with summer shoes. Thats foolish.
In winter I am ofter there for skiing. It is a very nice area.