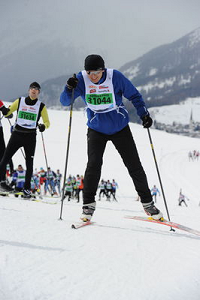 It was not as cold as last year. We again started at 3 am in the morning, drove with the car to Landquart, continued by train to St. Moritz and from there you have to go by bus to Maloja, to the start of this famous race.
The ugly thing is, that you have to wait in Maloja about more than an hour until you can start and there is no tent where you can sit down and have warm. And all the restaurents are full, almost exploding. Last year we found an open church where we waited. But this year, this church was closed. Luckily we found that the entrance hall of the local community office was open. So we sat down on the floor and waited there.
The race was very very hard. The snow was ok at the first 20 kilometers, but then is was so slow, that the rest of the race was a fight against the snow. I was very exhausted, when I finished. The snow on the last 500 meters was artificial snow, deep and heavy. On the last 100 meters I really played with the idea to put off the skiers and walk the remaining hundret meters.
I needed 3 hours and 40 seconds. My wish was to stay below 3 hours. Almost reached. But the whole day was a great advanture. Looking forward to next year!