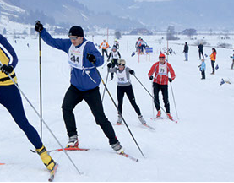 There was not enough snow this year, so the competition was held in a near village and the distance was reduced to 30 km instead to a normal marathon distance.
Was a great race with very good conditions, nice weather and icy slope. I was in much better physical condition than last year. I did the 42 kilometers on the normal route here in Einsiedeln for training in less than 3 hours. And this already a few weeks before the competition.
But the place I gained was not very good. It had not many participants, only good sports man. In such a race it is hard to gain a good pace. But what shalls! I do it just for fun. And was great fun!