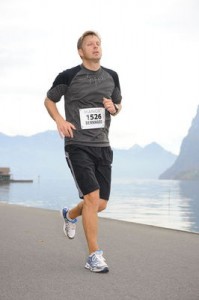 This year was the first time I were able to run the whole distance of the marathon. The last two years I always had to walk for a few hundred meters because I was so exhausted that it just was not possible to run any more. Of course, I restarted running after a while, but in my opinion, you have not really finished, if you have to walk. Even if its just a short distance.
My time this year was 4 hours and 7 minutes. Once more I were not able to do it in less than 4 hours. Maybe next year.
The reason for the better time is clear: first I had more long distance runs in my legs, I did about 4 times 30 kilometers and the best time for this distance was about 2 hours and 40 minutes. Second I have this year in general a better condition because I did a lot of kilometers on my street bike. Third, I did less training overall. This year, I stopped going to the fitness studio twice a week and did the last couple of months sport only at the weekend. Fourth, I made a break of about 4 weeks before the marathon, to have enough time to regenerate (though this was not planned). And then, I cared more about drinking and eating during the marathon itself. And finally, I started slower. I really forced myself to go slow the first 20 kilometers.
As always, it was a lot of fun. Doing a marathon is my new passion. In 3 weeks, there would be another one in Frauenfeld. I will try to start there too.