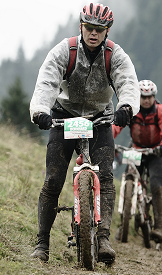 It was raining the whole Saturday and had only 6 degrees above zero, means that on the mountains there was already snow. The largest distance which goes up to 1700 meters was cancelled therefore. I bought overshoes and a cap wearable beneath the helm to be ready for the cold weather.
On Sunday, the day of the race, it was not raining any more, at least not so heavily and the start of my group was 8:50 am. There were about 500 participants in my group. I started as one of the latest because I came very late to the start which is just 500 meters from my home away.
The weather was no problem, you do not feel the cold if you have good clothes which hold out the water. I needed 6 hours and 3 minutes for the 77 kilometers distance. And I felt very good, when I arrived the finish. Was not tired, had the feeling that I still could go for an hour.
This race was one of the most exciting races I ever had. Parts of the race were a mud-wrestling, especially the down-hill distances. I crashed two times and everybody was brown from foot to head including the bikes. After the first very muddy down-hill, there was a stop to clean the bike which was good, because it was filled with dirt over and over.
After I had reached the most highest altitude of the race, I had to readjust my breaks and was so much out of power that I allmost fell. And there was also a time when I allmost capitulated, but it was all because I ate to less. The last 10 kilometers I regained strengh and the rest was just fun. No pain in the legs, nothing, I felt like a machine and were able to make a sprint to the finish line.