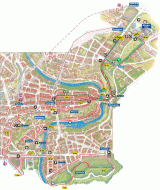 This year, we did it for the third time. The "Grand prix de Bern" is one of the most fascinating running races I know because there are such a lot of people starting. This year, there was a new record in participating runners. More than 22 thousand in the 10 miles category.
I had a good race. I am not sure if I were faster than last year. But one thing is sure. The personal impression of the race is that it is over faster from year to year. This might be because with the time you know the race already. Of course in the first year, all was new and you one had the impression, that the 16 kilometers took a quite long time. Not so this year. All was over after a couple of minute, was my feeling. But I had a similar time than last year. Funny.
After the race we always stay for a couple of hours in Bern. It is such a nice city. We first went to the "Bundeshaus" and had a beer in front of it in one of the many restaurents there. After this we went to a already known restaurent, where we had nice food, after the exhausting race. I like it.