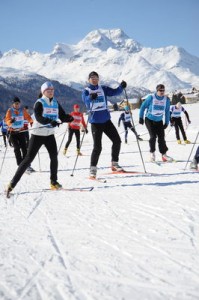 This year I participated the first time the marathon in Engadin. The race starts at the highest point in the valley and goes continuously down. The difference in altitude is about 200 meters.
We had to stand up at 2:30 in the morning, went with the car to Landquart, from there by train to St. Moritz and further to Maloya by bus. At approximatly 6:30 we arrived.
It was very very cold, below 15 degree I think. We put our skiers to the start point and waited in a small church where it was warm.
The race was exciting. We started in front of 5000 other people and within a few minutes thousands were before me.
But later, I were able to overtake more and more. 42 kilometers is quite a long distance and you have enough time to gain places. In the middle the route goes through a wood where the trace becomes very narrow so that very often you had to wait to come forward.
I finished below 3 hours which means that I am allowed to start two blocks earlier next year. The race is such a fun. There are more than 10.000 starters. From now on, I will try to participate every year. It´s just fun. The whole day was an adventure. We were back at home at 5 pm.
The man in the blue jacket in the middle of the foto is me.