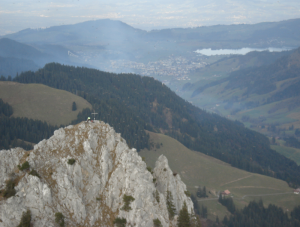 This year winter is not coming. It is end of November and still very warm. Yesterday I climbed the "Kleiner Mythen" and made a photo back to Einsiedeln. In the background you can see Einsiedeln and part of lake "Shilsee".
This mountain is much more dangerous than its taller brother "Grosser Mythen". You have to pass several spots where it's possible to fall down. Normally I don't fear the route, but this year I really were happy when I stood on top of the mountain, maybe because I am out of training.
But yesterday I did a new personal record: exactly 60 minutes from the parking place to the top. For going down I have exactly 40 minutes. Last year I have 5 minutes more!
The mountain on the picture is "Haggenspitz", the third in this group. Only a few people are climbing this mountain. There is no official route and it is almost invisible. I were there a couple of years ago, also end of November. I think it must have been at least 4 years ago, when it was also very warm in November.