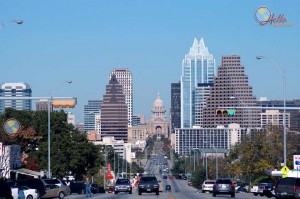 I had to go to a meeting in Austin, Texas. Our company has a subsidiary there. Austin is a very nice city. Totally different to New York.
I have never been in this part of the US and am very surprised. I have been in California almost 20 years ago, and I have been in New York for several times, but all regions are different.
It is flat, in the middle of the country which means that you fly with the plan for hours over land which always looks the same. We flew in from Canada and had half the day wood, fields and small towns beneath us. We landed in Atlanta, Georgia, where you could see a lot of new houses grouped into lanes as you can see it in TV series from US.
Austin has a small center with a few sky scrapers. Austin is the head quarter of Dell, and there are the government and the university of Texas there. This explains also the big difference to for example New York. In Austin, there are crowds of  people doing sports, running, biking and so on, what you can not see in Connecticut for example.