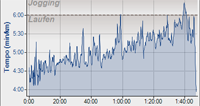 This is a half marathon. It has a distance of about 21.100 kilometers. I participated this year the first time. Last year I have a cold. You can not run a half marathon with a cold. I think you would die. It is too long.
Yesterday it was too warm, so everybody was slower than normal. For me and my nightbour who participated too, it was a very hard fight. After half of the way we already were dired. People started to overtake use. The longer the race was, the more people were overtaking me.
It is always frustrating if you are slower than such a lot of competitors. Finally I was happy that I were able to finish. This was really one of the hardes runs I had up to now. 21 kilometers is very long if you go as fast as you can. Running 12 kilometers is easy in comparision to this.
The last running, around Wäggitalersee was a fun compared to yesterday. But I will again participate next year. As a whole its just fun. The more races I make, the more fun I have.