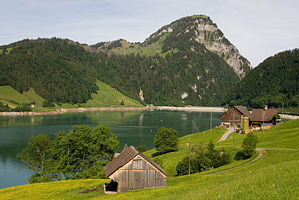 There is as small valley with an artificial lake near Einsiedeln. It is called Wäggital and the lake exists since 1924. Each year there is a running race around the lake.
We participated this year for the first time. Is is about 12.8 kilometers and on Friday evening. This year was the 20th race. The winner had 43 minutes. We finished in less than on hour, 59:46!
Such a short race is like a sprint. You can go go go. At the last 500 meters I were even strong ennough to make a sprint and overtake a competitor. I am in good condition this year. I already jogged several times from the office to our flat, a distance of more than 20 kilometers and elevation of about 500 meters.
This gives power. We want to redo the Luzern marathon this year, and I am already able to go more than 30 kilometers without getting to dired.