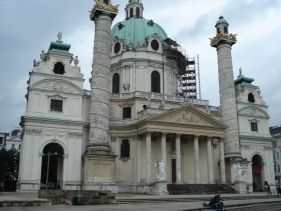 We were visiting Vienna together with my parents. It was a birthday present to my father. My parents never have been in Vienna up to now so they had a lot of pleasure. We booked rooms in Burgenland, in a small village at the "Neusiedlersee" which is a big lake near the border to Hungary.
From there we started a daily travel to Vienna with the train. Vienna is only one hour away from there and the train brings you to the "Südbahnhof". From there you can just walk to one of the famous places of Vienna, the "Belvedere", a castle with a huge garden.
We did a lot of the famous locations for example the "Karlskirche" and had a lot of fun. The people in Vienna a very kindly and the city is very clean. Vienna a worth a visit. We will return as soon as possible.