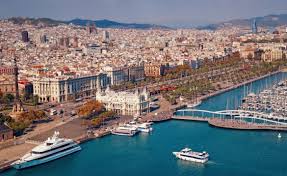 We had a business event in Barcelona. I have never been in any Spanish speaking country. I have never been in Mallorca or Costa Brava, so did not know Spain.
Therefore I am surprised about how nice Spanish people are. I like even the language: "Holla" means hello and sounds very nice. They just say "Holla".
On the second day, we drove with Sagways through the city. This is real fun. You have to train it a bit at the beginning, but after 2 minutes, you are ok.
Once I had to jump from the thing because the turn I tried was finally to strong, but it is not really easy to have an accident. You can just not go too fast. It slows down automatically. And the nice thing is that you can drive just through the pedestrians.