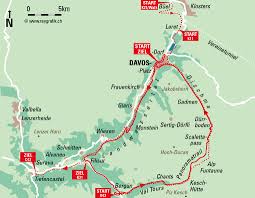 This was also the first time I participated at this race. Its also great fun. I stood up at 4 am in the morning and went by car to Davos. You need 2 hours from Einsiedeln and I had not ticket yet, so I tried to be there early enough. Start was at 7  am in the morning.
All went ok, but when it was time to start I realized that I had forgotten my chip. I immediately went back to my car which was not so far away to put the chip on. But when I came back to the start, all participants were gone and I did not know, into which direction. I just missed them all.
First I tried one direction, but nobody there, then I went into the other direction and finally managed to get them by seeing them coming back from a turnaround. I had two options: go back and try to find the route or cheat a bit and enter the mass from where I was. I decided to do the second one. Nobody claimed and I was not there to win the race.
Big race, very beautiful route. Quite up and down and at the end I was totally exhausted and my legs burned. I had to stop and walk, try again to run, walk again but at the end I finished. Next year, I know it better and will do it correctly. Davos is very nice. Have never been there before.