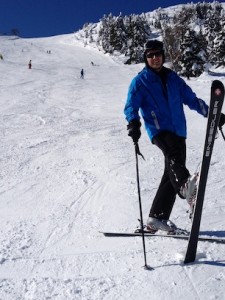 We made our yearly winter holidays  again in Mauterndorf, Austria. Luckily in this area of the Alpes there was a lot of snow this year.
Though this winter was much too warm, a couple of weeks ago it was snowing very very heavily in the southern region of Austria. I was surprised because I have never seen so much snow in this skiing area. Especially in the skiing region Katschberg / Aineck there was extremely much snow.
On the picture you can see me in the middle of a famous slope in Katschberg. It is famous for its steepness, and because there were not too many people skiing, it was possible to carve down the hill using the full range of the slope, left to right.
Katchberg is the best skiing area in the region where I grew up. But one day we made a trip to one of the bigger areas reachable within an hour with the car. This time we choose Schladming where the last winter world championship was held. Schladming is great, one of the best skiing areas I ever saw.